THE 2OTH NCRP VISAYAS REGIONAL CLUSTER (VRC) CONVENTION AND STAKEHOLDERS' ENGAGEMENT: STRENGHTENING NETWORK WITH LGUs, HEIs, AND THE THIRD SECTOR
Members of the National Research Council of the Philippines (NRCP) and relevant stakeholders in the Visayas Region will convene for the 20th NRCP Visayas Regional Cluster (VRC) Convention and Stakeholders' Engagement on October 25-26, 2023, at the Leyte Normal University in Tacloban City, in a face-to-face format.
With a core theme of "Towards a Positive VUCAD2 (Visionary, Understandable, Clear, Agile, Digital, Diverse) Future: Developing a Sustainable Blue Economy in the Visayas," the NRCP VRC Convention underscores the pivotal role of the Blue Economy as a catalyst for development and economic growth in the Visayas Region.
This strategic sector encompasses fisheries, tourism, and maritime transport, the critical components of the region's economy. The convention, will delve into the indispensable roles played by science, technology, innovation, and effective policymaking in addressing the challenges faced by these Blue Economy drivers in the Visayas.
The assembly provides a venue for academic discussions among NRCP Members and convergence among key stakeholders and policymakers in the Region for a strengthened research and development community towards a holistic approach to regional development.
The convention's agenda unfolds across two days, commencing with Day 1 on October 25, featuring technical presentations to share new knowledge and policy insights from prominent experts in the field. Simultaneously, the General Membership Assembly of NRCP Members in the Visayas will convene to discuss pertinent matters.
Day 2, on October 26, will serve as a platform for academic interaction and networking among NRCP members, facilitating the consolidation of networks and partnership projects with Local Government Units (LGUs), Higher Education Institutions (HEIs), and the Third Sector in the Region.
In addition to the substantive discussions, the convention will host a Scientific Poster Competition encompassing the fields of Social Sciences, Biological Sciences, Physical Sciences, and the Humanities.
Detailed guidelines for participation in this competition can be downloaded through this hyperlink:https://drive.google.com/file/d/1kaPnNPP1rjwzB4oAuEtdxCtv7gNsziIc/view
This 20th NRCP Visayas Regional Cluster (VRC) Convention 2023 promises to be a remarkable platform for collaboration, innovation, and partnership-building, propelling the Visayas Region towards a sustainable future. We look forward to your active engagement and contributions to this pivotal event.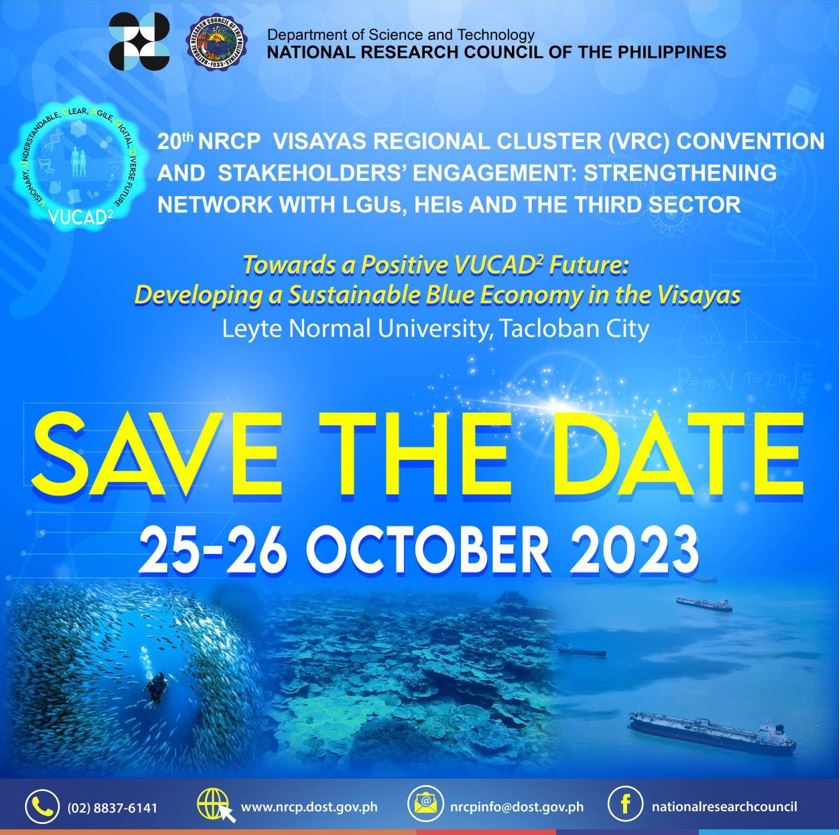 For media inquiries, please contact: 8837-61-42 Local 101
EXECUTIVE DIRECTOR III, DOST-NRCP
About NRCP:
The National Research Council of the Philippines (NRCP) is a premier agency in the Philippines dedicated to fostering research and development across various disciplines. NRCP facilitates collaboration between researchers, policymakers, and stakeholders to address critical challenges and drive sustainable regional and national development.
By 2033, the National Research Council of the Philippines envisions being the government entity that creates knowledge, formulates policy, and is the prime advisory and consultative body towards sustainable and people-centered development for the nation and the world.– NRCP Vision (Glenn Ford B. Tolentino / gftolentino.nrcp.09112023@gmail.com)