NRCP Science Workbook and Game App to Launch on the Int'l Day of Mangrove Ecosystem
In celebration of the International Day of Mangrove Ecosystem on July 26, 2023, the National Research Council of the Philippines (NRCP) will launch its knowledge products that include the biodiversity science workbook and a mobile game application in the municipality of Del Carmen, Siargao Island.
These NRCP knowledge products show that the Council continuously uphold its commitment to make science easy and engaging for all. Building on the success of 21 science videos that showcase Del Carmen, Siargao's remarkable flora and fauna, the NRCP science education experts along with the local game developers designed another means that learners can best acquire the most essential learning skills in animal classification, biodiversity, and caring for the environment.
Del Carmen Municipal Mayor, Alfredo M. Coro II, in his statement with the NRCP, said that their town is one of the most visited places in Siargao Island because it provides natural scenery with extraordinary beauty particularly the vast mangrove trees that protect its flora and fauna biodiversity.
NRCP's Siargao Science Workbook!
This knowledge product is carefully crafted into seven (7) chapters with an array of enjoyable and informative activities highlighting Del Carmen, Siargao's rich species of birds, reptiles, amphibians, arthropods, decapods, mammals, and fishes.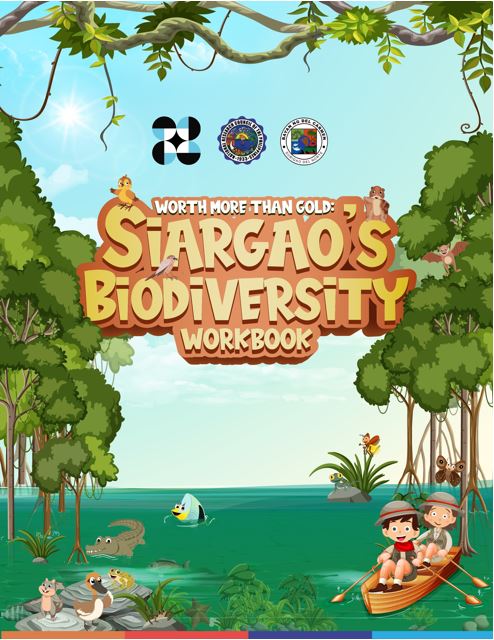 Flipping through its pages, students will be immersed in engaging coloring exercises, visually stimulating graphic organizers, and drawing activities, among others. It aims to ignite curiosity and foster deep appreciation for the wonders of nature during their formative years.
In addition to the science workbook, a game application titled, Siargao Flora & Fauna Puzzle will also be launched to inspire Siargao learners to learn more about the animals and plants in their home island.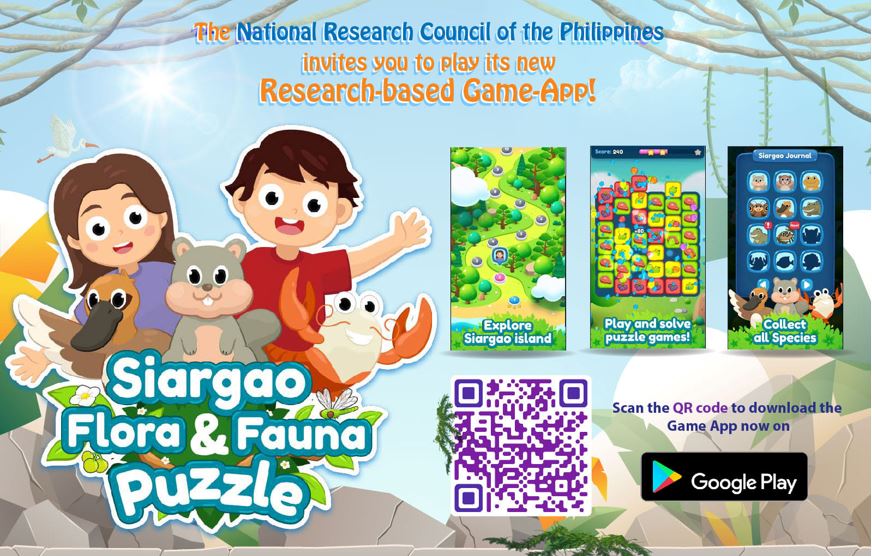 Similar to one of the most played mobile games, Candy Crush, the Siargao Flora & Fauna Puzzle is an offline game that introduces new animal species on specific levels. Each level is an idle and visual way to understand the habitat and behavior of Siargao's natural treasures like Mindanao Flying Tree, Paka Gadikit, and Platymantis Paka through the app feature called, "Siargao Journal."
Rep. Francisco Jose Matugas II of Surigao del Norte 1st Congressional District endorsed the NRCP game application and encouraged parents to, "Let us explore Siargao Island through this game app, especially for our children, and learn more about the types of plants and animals that continue to thrive in Siargao's rich biodiversity."
With their commitment in safeguarding Del Carmen's natural treasures through research endeavors and knowledge-driven initiatives, Dr. Renato U. Solidum, Jr., Secretary of the Department of Science and Technology (DOST) along with Engr. Noel M. Ajoc, DOST Caraga Regional Director, are both pleased for this NRCP STI initiatives and endeavors, particularly in making science easier and more engaging to kids and the members of the community of Del Carmen.  Both were invited to grace this momentous occasion.
Dr. Leslie Michelle M. Dalmacio, President of NRCP; Dr. Bernardo N. Sepeda, Executive Director of NRCP; Dr. Marian P. De Leon, Corporate Secretary of NRCP's Governing Board; and Dr. Cecilia Banag-Moran, the lead researcher of the NRCP research on Del Carmen's Biodiversity will lead the launching of the knowledge products.
"This is our attempt to preserve our identity and history. Featuring our biodiversity is our way of ensuring that the next generations will appreciate what we are protecting and what we are fighting for," Honorable Mayor Alfredo M. Coro II explained during the launch of 21 science videos last September 01, 2022.
Furthermore, the NRCP and the Department of Education of Region XIII will forge a Memorandum of Commitment at the onset of the program, signifying their united efforts to enhance the promotion and education of students regarding the significance of safeguarding and preserving Del Carmen, Siargao's biodiversity.
Participants will partake in a fun exhibit through an inspiring drawing workshop, and interactive game tournament during the afternoon session.
Participants include officials from SNSU, Philippine Science High School (PSHS), Caraga, Siargao Island Institute of Technology, Siargao SHS, Caraga SHS, USAID-SIBOL, Rare, Forest Foundation, and Foundation for the Philippine Environment, 100 teachers and pupils from Siargao Island, DepEd-XIII, Department of Tourism-XIII, and DENR-XIII.
The science workbook and game application are both research-based. Both of these knowledge products are derived from the inventory and biodiversity assessment conducted in Del Carmen, Siargao by a group of NRCP researchers.
Mark your calendars for July 26, 2023, as the NRCP embarks on a visit to Del Carmen, Siargao, to unveil the science workbook alongside students from Grades 1 to 2.
Written By: Regine C. Pustadan, Information Officer II)