NRCP now accepting Poster Entries for the Visayas Regional Cluster Convention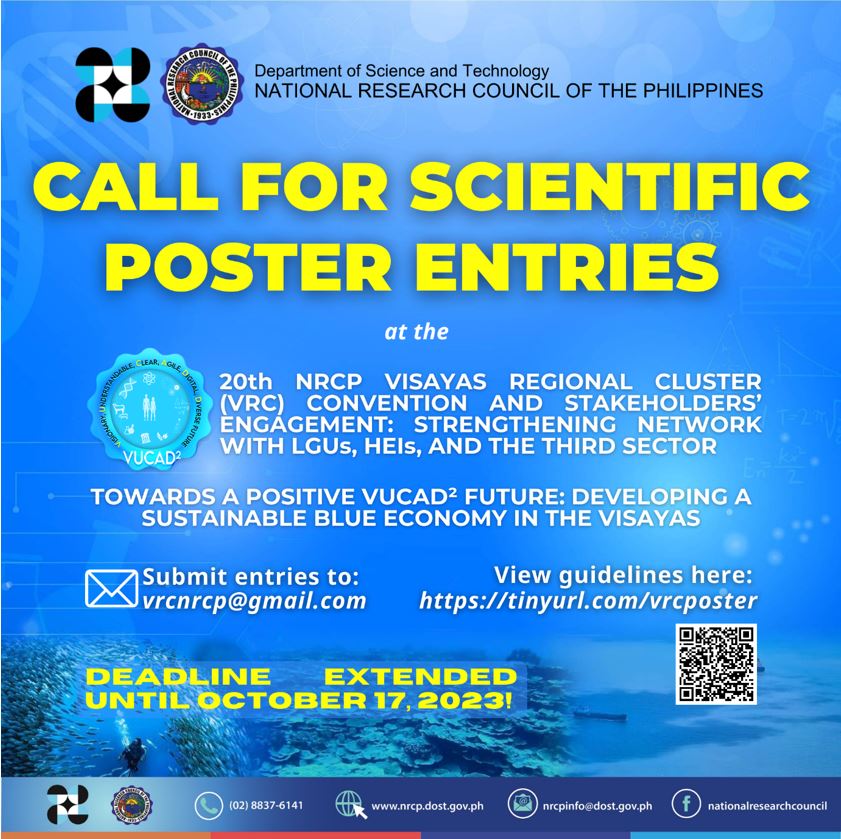 The National Research Council of the Philippines (NRCP) calls on all NRCP members from the Visayas to submit scientific poster entries for the upcoming 20th NRCP Visayas Regional Cluster (VRC) Convention and Stakeholders' Engagement: Strengthening Network with LGUs, HEIs, and the Third Sector. This year's VRC Convention will be held at the Leyte Normal University on 25-26 October 2023.
This year's conference theme, Towards a Positive VUCAD² (visionary, understandable, clear, agile, digital, diverse) Future: Developing a Sustainable Blue Economy in the Visayas, aims to highlight Blue Economy as one of the critical development and economic drivers in the Visayas Region, supported by component industries namely: fisheries, tourism, and maritime transport.
The poster session has two (2) categories – Category A: Non-competing and Category B: Competing. Members may submit their poster entries in the following disciplines:  Social Sciences, Natural Sciences, Physical Sciences, and the Humanities.
For both categories, at least 1 author should be an NRCP member and poster entries should not have been previously presented in other scientific meetings. To qualify for Category B, poster entries must be studies, either on-going or completed in 2019 to 2022, which were funded by NRCP or other DOST institutions.
The deadline for submission of poster entry e-copies has been extended to 17 October 2023 and entries may be submitted through vrcnrcp@gmail.com. View and download the poster specifications and guidelines at tinyurl.com/vrcposter.
These regional conventions, membership assemblies, and stakeholder engagements provide the venue for scientific discussion and sharing of NRCP updates, research grants, and membership policies.  To date, there are over 800 members listed in the NRCP Visayas Cluster (Vincent Gepaya, NRCP).