Mabalacat City, Pampanga, January 25, 2023 — The National Research Council of the Philippines (NRCP) participated in the Department of Science and Technology (DOST) first of a four-part campaign series of the Annual Call for Proposals (CFP) Conference. A diverse group of researchers, scientists, engineers, innovators, and other government officials of aligned departments also attended and participated.
During  the campaign, the four research council directors of the DOST present their research priority areas, discuss evaluation processes, share tips and best practices in crafting proposals, as well as invite and encourage researchers and scientists to submit their proposals.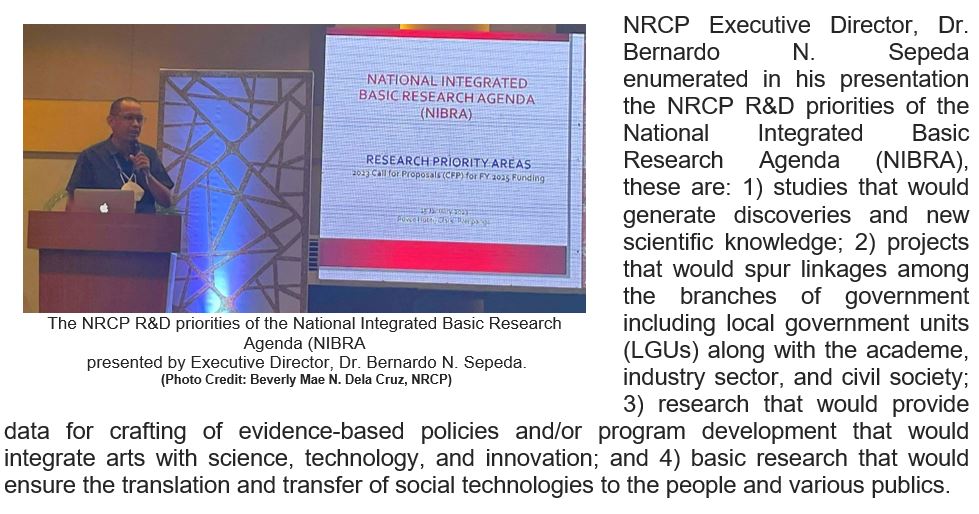 Executive Director Sepeda also stressed that evaluators will be looking at six (6) required outputs in the research proposals to help quantify all outputs vis-à-vis with the total proposed budget of the project, these are: 1) publication or the research results in an ISI or peer reviewed journal; 2) patents and other intellectual property rights such as utility models and copyrights; 3) evidence-based policy recommendations that will serve as input to public policies like barangay ordinances, resolutions, house and senate bills, development plans, among others; 4) products such as microbial-based soil amendments, bioactive compounds for pharmaceutical uses; (5) places and partnerships as output from research collaborations; and 6) people services in terms of strengthening the scientific and technical workforce through mentoring of undergraduate and graduate students under the research project.
The NRCP NIBRA (2022 – 2028) is classified into three (3) types basic research, namely: Blue Skies Research; Oriented Basic Research; and Policy Research Program and under each types are thematic areas of research where proposals should be aligned.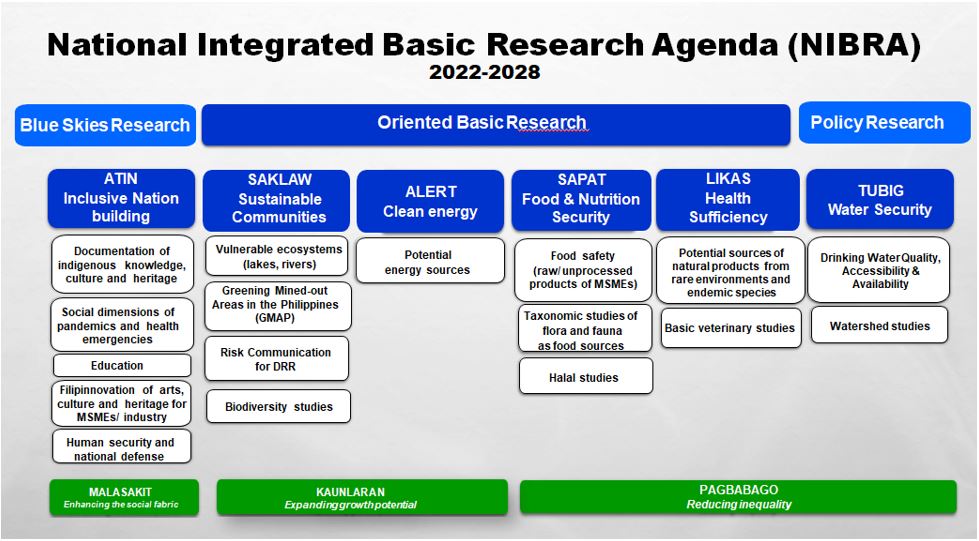 Policy Research
Policy research topics can be demand-driven, requested by solons, or directed by the council itself through research projects.  A possible output for this priority area is a draft policy proposal/recommendation or a policy statement which will be shepherded to appropriate Committees/Offices in the two Houses and/or relevant government agencies.
The NRCP NIBRA is anchored on the Harmonized National Research and Development Agenda (HNRDA).
The submission of proposals for NRCP will open from March 1-31, 2023 via DOES Project Management Information System (DPMIS): https://dpmis.dost.gov.ph/. The R&D proposals that are approved will be funded in 2025.
The call conferences will be held in three more phases, with sessions taking place in NCR and South Luzon on February 1st, Visayas on February 16th, and Mindanao on February 28th. This initiative aims to contribute to the advancement of science and technology in the country. Researchers and scientists in the Philippines will have the opportunity to stay informed on priority areas and increase their chances of receiving funding for their projects through the call conference.
Last year, NRCP approved 12 proposals (NRCP GIA – 10, DOST Directed – 2) for 2024 funding. (Jenny Leigh A. Daquioag, DOST-NRCP)
Author: Jenny Leigh A. Daquioag