December 27, 2022 – former National Research Council of the Philippines (NRCP) Executive Director and former RDLead Project Leader Dr. Marieta Bañez Sumagaysay highlighted the triumphs and positive impacts of R&D Leadership Program to HEIs, NGAs, and RDIs during her radio interview in Radyo Pilipinas.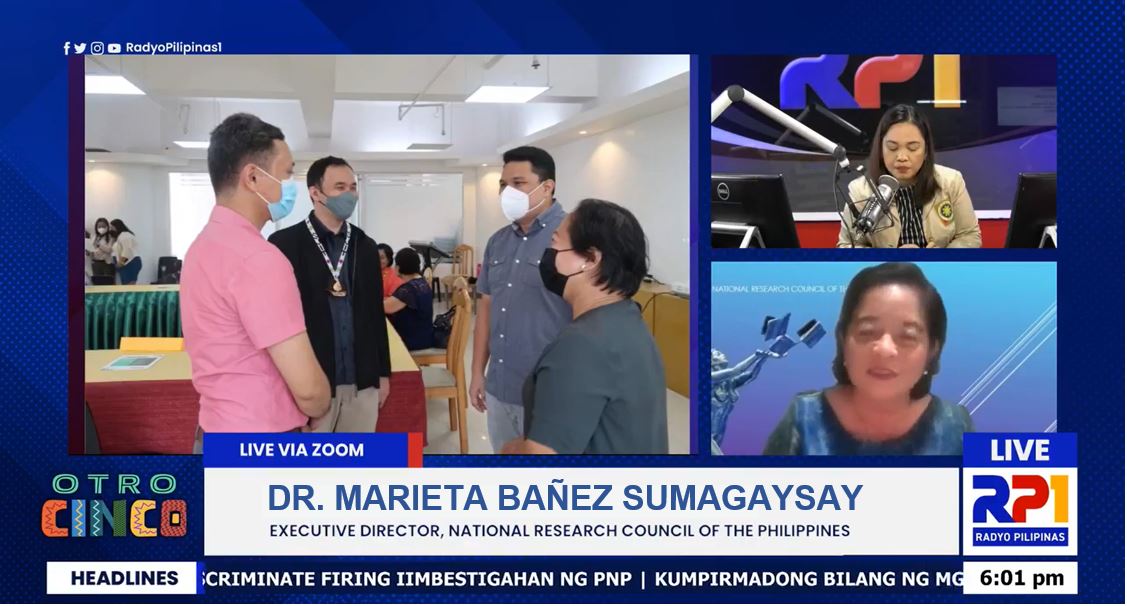 She discussed how the Research and Development Leadership (RDLead) program helped in the development of more researchers, scientists, and engineers (RSEs) in the country. The increase in the number of RSEs in the country is crucial in creating a good research landscape to help drive innovation and development. According to the United Nations Educational, Scientific and Cultural Organization (UNESCO), a country should have at least 380 researchers per million population.
At present, the country only has 280 scientists per million. With the RDLead Program, 75 RD Leaders or experts in research and development were engaged to train and mentor researchers, faculty, and personnel in 72 higher education institutions (HEIs), research and development institutes (RDIs), and national government agencies (NGAs). This has reached at least 1500 researchers and scientists in total.
Further, she emphasized the need to continue the RDLead program to help improve the number of Filipino researchers relative to the population. This will drive development in the regions towards more inclusivity. Promoting inclusivity is one of the aims of the RDLead program as it decentralizes the distribution of the country's limited R&D funds by tapping local expertise to mentor research talents throughout the country. This provides more equitable opportunities in the regions. This creates a more inclusive research ecosystem and promotes community-based research, development, and innovation.
At present, the RDLead has supported 23 new institutions out of the 72 it assisted, representing 12 regions in the country. These new institutions have not yet received any research funding from the DOST from 2014 – 2019. The engagements in these new institutions are expected to help them start learning more and eventually tapping opportunities offered by the DOST and its attached agencies to support their research and development pursuits. Of these 23 new institutions, 12 have already secured funding approval from DOST and other sources to start research projects and upgrade their facilities. Cumulatively, they have secured grants amounting to PhP 152.4M.
The RDLead is one of the 4 components of the Science for Change (S4C) Program of the DOST. The S4CP was led by the former DOST Undersecretary for Research and Development Dr. Rowena Cristina L. Guevara from 2017 – June 2022.  A bill of the same name was filed in congress to push for a more substantial R&D funding so the country can avoid being perpetually in a "catch up" mode in developing technologies for the betterment of Filipinos' lives.
The S4CP Bill has already passed the 3rd and final reading of the lower house in the 18th congress. It received support from lawmakers such as Congressman Jose Ma. Clemente Salceda and Senator Panfilo "Ping" Lacson. In a statement Senator Lacson in 2021, emphasized that, "The agenda of the Science for Change program is clear – it allows us to be self-reliant, effective, and capable of harnessing R&D to resolve our challenges as a nation. In the face of a global health crisis, we need knowledge-driven solutions and evidence-based answers."