Knowledge not communicated is knowledge wasted.
As pillar of the country's S&T efforts, we must go beyond the scope of our technical work and extend the value and relevance of what the Department of Science and Technology (DOST) does to Filipinos—regardless of their socioeconomic background.
Thus, the National Research Council of the Philippines (NRCP) pledged its commitment towards communicating science through Bridging the Utilization R&D results through Awareness and dissemination (BURDA) for CEST beneficiaries.
Going beyond monitoring responsibilities, the NRCP conducted a one-day training on December 9, 2022, from 8AM to 4PM via Zoom, with topics focusing on science popularization and implementation or use of knowledge products. The first of three batches came from DOST Regional Offices, Provincial Science and Technology Offices, and CEST Community Leaders of Regions 1, 5, 6, 10, 11, and 12.
Photo Opportunity with BURDA for CEST Training Participants, Secretariat, Resource Speaker, and Key Informants
As the resource speaker, NRCP Associate Member of Social Sciences and UPLB College of Development Communication Professor, Ms. Aletheia C. Araneta started the day-long training with the introduction of science popularization concepts and the value of its praxis. Popularization techniques were also discussed, such as translation, process reporting, humanization, and visualization. At the end of the AM session, Ms. Araneta explained the contents of implementation guides in preparation of the demonstration of the regional participants.
Following the brief lecture on science popularization and implementation of knowledge products, a pilot-showing of the first batch of BURDA animated videos was shown to the training participants. This set of animated videos featured five (5) episodes, 1) Cattle Tick, Lintick, 2) SINGbuano, 3) WE-men See, Beyond the Sea, 4) Ayan na ang Anay, and 5) Samgyupsagulay, may namamahay.
These animated videos were derived from basic research results of NRCP researchers, NRCP Regular Member from the Division of Veterinary Medicine, Dr. Remil A. Galay, NRCP Regular Member from the Division of Humanities, Dr. Hope Sabanpan-Yu, NRCP Regular Member from the Division of Social Sciences and NRCP Executive Director III, Dr. Marieta Bañez-Sumagaysay, NRCP Regular Member from the Division of Agriculture and Forestry, Dr. Menandro N. Acda, and NRCP Regular Member from the Division of Biological Sciences, Dr. Vachel Gay Paller.
BURDA for CEST is an initiative under the DOST-GIA Project, Leveraging Basic Research Information Translation for Empowerment in the Regions (BRITER). It aims to craft knowledge products from NRCP basic research results that are easy-to-understand, culturally sensitive, gender sensitive, and most importantly relevant to the needs of CEST communities.
"I truly believe that as public servants from the Department of Science and Technology, it is our fate and mandate to improve science culture in the Philippines, not only among the academy, but also among common Filipino people who are yet to discover the wonders of research, science, and technology," DOST Undersecretary for Regional Operations Engr. Sancho A. Mabborang emphasized during his opening message.
Aside from laymanizing research results into scripts and producing engaging animated videos, NRCP intends to veer away from mere provision and distribution of knowledge products. For sustainability, the NRCP incorporated a series of training among DOST Regional Offices, Provincial Science and Technology Offices, and CEST local leaders to further build their awareness, appreciation, and skills about communicating science to the communities. Each animated video has its implementation guide, which will serve as a reference tool for facilitators.
Before the participants' preparation for demo implementation, they were given the opportunity to raise questions per episode. Mr. Jeph Roxy Macaraig, University Research Associate from the University of the Philippines Los Baños, represented Dr. Paller during the open discussion.
During the PM session, participants joined their designated breakout rooms to prepare for the demo facilitation of animated videos assigned to them.
"We understand that change in appreciation does not happen overnight. Continuous engagement with communities is a must to instill a science culture. Hence, we are here today, as part of the DOST and as community leaders–as opinion leaders of our colleagues and kababayans–to see for ourselves the value of science and communicate it among everyone," underscored Dr. Sumagaysay as she delivered her message about the Project.
Two (2) more batches of the training will be conducted with the remaining regions, as scheduled on February 24, 2023, and March 17, 2023. The roll-out and distribution of BURDA animated videos will start next year.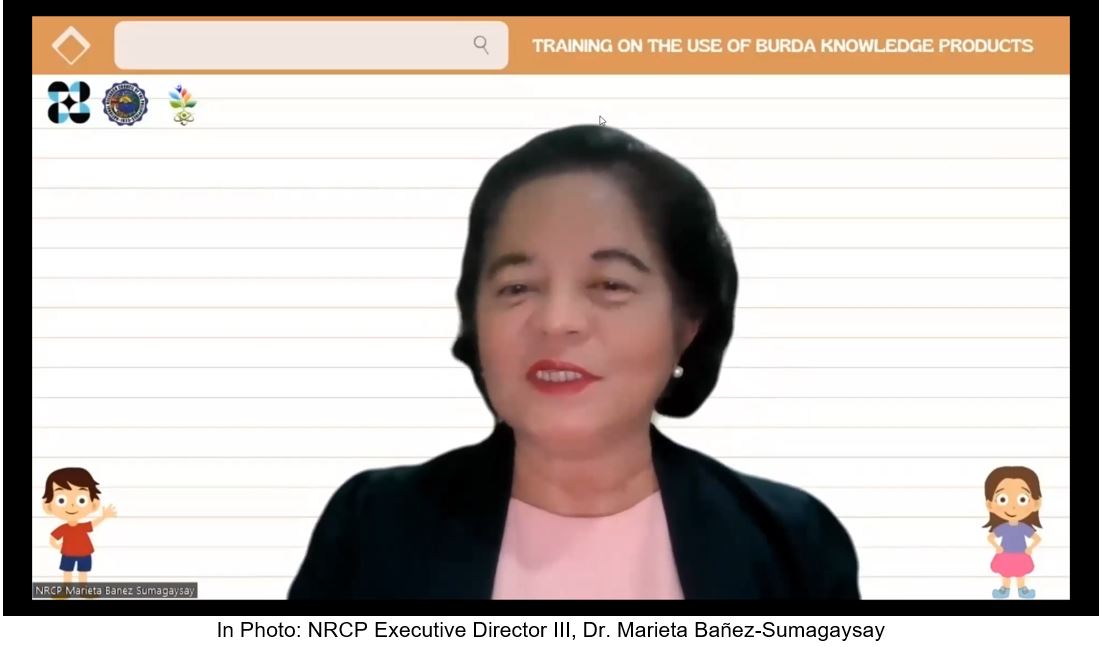 Written by Regine C. Pustadan, Information Officer II.