DOST-NRCP – Congress Synergy for Policy Development
By 2033, the Department of Science and Technology-National Research Council of the Philippines (DOST-NRCP) envisions to be the government entity that creates knowledge, formulates policy, and the prime advisory and consultative body towards sustainable and people-centered development for the nation and the world.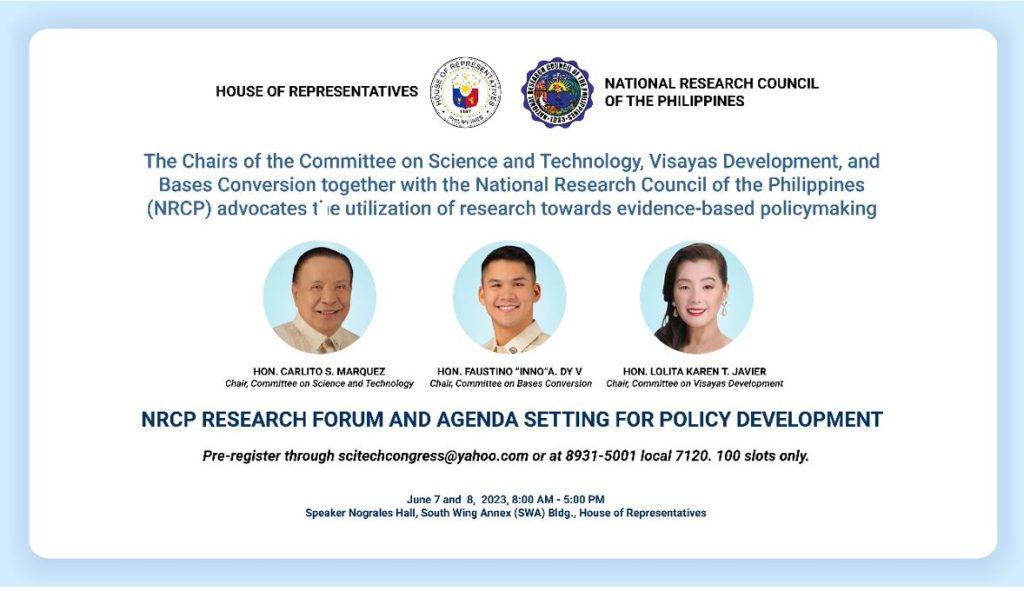 With this on hand, NRCP started mapping its policy development research by collaborating with policymakers through a program titled, NRCP Research Forum and Agenda Setting for Policy Development, which will be held on June 7-8, 2023, 8:00 am – 5:00 pm, at the Speaker Nograles Hall, located in the South Wing Annex Building of the House of Representatives.
The key players to this forum include, Hon. Carlito S. Marquez, Hon. Lolita Karen T. Javier, Hon. Faustino A. Dy V, House Chairs of the Committee on Science and Technology, Visayas Development, and Bases Conversion, respectively.
One of the highlights of this activity is the presentation of completed NRCP funded policy research projects conducted to contribute in strengthening proposed bills on the following areas transforming a municipality into a smart city; making a community into a tourism destination; revitalizing Filipino music; revolutionizing sanitation processes in the country; and conversion of waste to energy.
NRCP President, Dr. Leslie Michelle M. Dalmacio together with the NRCP Researchers will serve as discussants.  For smart cities and communities, Dr. Segundo Joaquin Eclar Romero Jr. and Mr. Jame Monren Mercado of the Division of Social Sciences; for waste and sanitation processes, Dr. Arnel Beltran and Dr. Joey Ocon of the Division of Engineering and Industrial Research; and for Filipino music industry, Dr. Maria Alexandra Chua of the Division of Humanities
NRCP hopes that this synergy with Congress will spawn other efforts that will contribute in the development of NRCP – Congress Policy Research Agenda, which will facilitate the drafting of bills, strengthening or amending laws for good governance and effective public service.
Pre-register at scietechcongress@yahoo.com or at 8931-5001 local 7120. This event is open for 100 slots only.
Written By: Jenny Leigh Daquioag, DOST-NRCP