Communicating the Language of Disasters to the People
Filipinos are recognized for being resilient and strong fighters in difficult circumstances. We manage to recover from setbacks, emerging stronger and determined to meet the hurdles that arise. There is no doubt that resilience is a useful and highly-adaptive trait, especially in the face of traumatic events. However, it can be taken too far. Too much resilience could make people overly tolerant of adversity. Romanticizing resilience places the burden on individuals in the absence of centralized planning and investing in climate adaptation infrastructure.
In 2021, the Philippines ranked 8th as the country most at risk from natural hazards and ranked 17th most affected by extreme weather events and weather-related losses. The Philippines is considered one of the most disaster risk-prone countries in the world due to its exposure to geophysical and hydro-meteorological hazards and human-induced risks. We often hear the term "natural disaster," which refers to disaster events as naturally occurring. But disasters are not natural. It is time to recognize that there is no such thing as a natural disaster, only natural hazards. Disasters will happen inevitably but the effectiveness of preparation and response spells the difference between life and death or recovery and loss.
But how do we combat the harmful side of Filipino resilience and the certainty of hazards?
"Put people at the heart of everything. Kasama sila sa pagtuklas ng mga isyung hinaharap nila at sa pag-identify ng mga possible solutions and to strengthen ang kanilang community in terms of disaster preparedness or response especially the long-term recovery ng mga naapektuhang komunidad," conveyed Ms. Aletheia C. Araneta, NRCP Associate Member of Social Sciences Division during the Regional Luzon Policy Forum last March 23, 2023 at Benguet State University as she shares her main takeaways as proponent of the NRCP funded project, Determining the Communication Needs and Capacities of Landslide-risk Communities on Disaster Risk Management.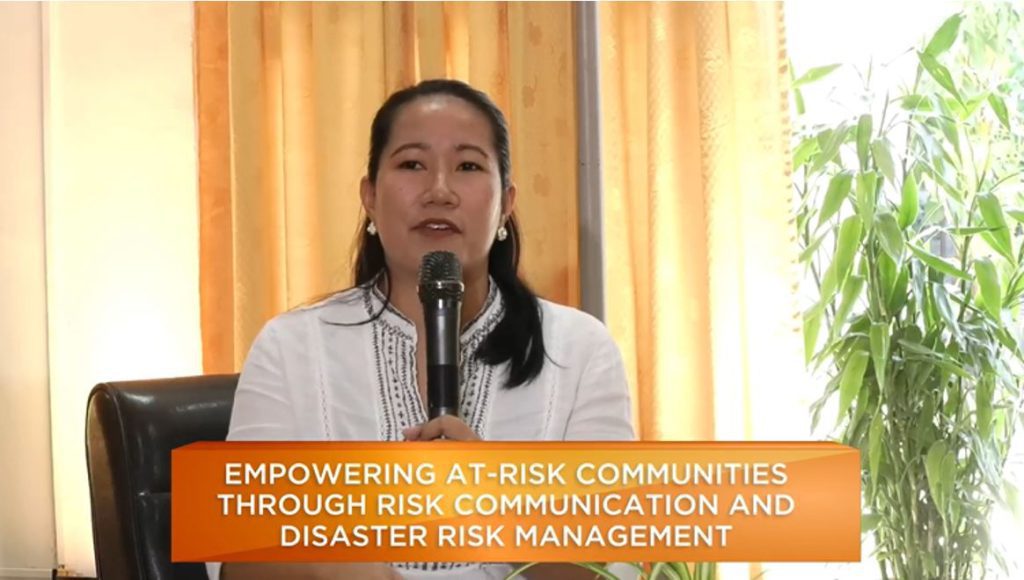 Knowledge without communication is barren, and to communicate the risk of disaster it is necessary to understand the perception of the people at risk. The inherent challenge for risk communicators is people's natural desire for certainty and closure. To portray this issue, an analysis of landslide risk perception in terms of experience, landslide risk awareness, exposure, preparedness, and risk communication and trust was undertaken in the municipality of Tublay, Benguet.
Ms. Araneta's research results prove that local communities offer rich insights in their specific concerns in terms of risk communication. They should continually be included not just in consultations but even as active partners in the communication process (source of message, designers of materials, facilitators, etc).
The forum produced valuable insights about the actionable information for how to prepare, protect, respond, and recover from the risk. It is critical because it allows people to make informed decisions and influences public perception and response to varied risks. Risk communication notably plays a central role in the risk management cycle, where it is necessary to identify a hazard, conduct risk analysis, and develop, implement, and evaluate policies. Besides, if not managed well, it also carries the potential to induce severe consequences due to misunderstanding of associated uncertainty by different stakeholders.
"Importante na alamin natin ang specific communication needs ng mga communities in terms of DRR bago tayo magplano at magimplement ng mga proyektong may kinalaman sa DRR kagaya ng information dissemination kasi baka ibang communication aspect na ng DRR ang kailangan ng isang community," the NRCP Member further explained. As applied to Disaster Risk Reduction and Management, there is no simple and single answer to a problem. All disasters are unique, and the impact of disasters can be a symptom of another problem.
The Philippines is prone to natural hazards. However, science and evidence-based solutions provide means to protect people and prevent hazards from becoming disasters.
Written By: Venus Abigail D. Gutierrez, PA IV