Agham Para sa Pamayanan: NRCP Brings Basic Research Results to Sitio Kati-Kati, Guimaras
On 28 and 29 February 2023, the DOST – National Research Council of the Philippines (NRCP) in collaboration with the Office of the Undersecretary for Regional Operations, DOST Regional Office No. VI, and Provincial Science and Technology Office of Guimaras, has brought three (3) knowledge products to the Aeta Community of Sitio Kati-Kati in Guimaras, a beneficiary of the DOST-funded project, Community Empowerment through Science and Technology (CEST).
NRCP's knowledge products are in the form of animated videos where science concepts in various fields  and other natural phenomena are unlocked and explained in a more easy to understand and entertaining manner.  With the NRCP Program BURDA for CEST or the Bridging the Utilization of R&D results through Awareness for CEST, three animated videos were piloted in  Sitio Kati-Kati, Guimaras, the first among the 16 CEST beneficiaries across the country.
The community members of Sitio Kati-Kati were not only entertained with animated videos but also learned various science concepts behind cattle ticks, termites, and food-borne diseases which will be useful in their real and everyday life situations.
NRCP Researchers, Dr. Remil Galay, of the Division of Veterinary Medicine/UPLB Professor and  Dr. Raphael Kevin Nagal, of the Division of Biological Sciences/DepEd Aklan Head Teacher along with Mr. Jeph Roxy Macaraig, Research Associate of UPLB Institute of Biological Sciences served as video annotators and lecturers.

The first video titled, Cattle Tick, Lintick, is based on the research, "Detection of Resistance to Multiple Chemical Acaricides in the Cattle Tick Rhipicephalus (Boophilus) microplus from Northern Luzon Provinces." This video explained the concept of cattle tick resistance and the proper utilization of acaricides. Some of the participants are active backyard cattle raisers. Dr. Galay, who conducted the said research, provided a laymanized lecture.

The second video, "Ayan na ang Anay," is produced from the NRCP research titled, Agricultural Waste Products as Potential Sources of Botanical Insecticides Against Philippine Subterranean Termites.  This video highlights agro-waste materials as alternative, health and environment friendly as pesticide against  termite infestations and Dr. Nagal provided a very engaging lecture.  In the course of the discussion,  he found out  that most of the participants use kerosene to get rid of termites.  Kerosene is a combustible lamp oil which can be bought and readily available  in any "sari-sari" store. Dr. Nagal stressed the beneficial use of agro-wastes materials compared to  kerosene.  Acute or prolonged exposure to kerosene fumes may lead to health problems like dizziness, drowsiness, and headaches notwithstanding the  danger of causing fire.

The third video took off from a very popular Korean food Samgyupsal titled, Samgyupsagulay, May Namamahay.  This video that focuses on the concept of food-borne illnesses was based on the NRCP-funded research, Parasite Contamination and Transmission in Selected Agricultural Farms in Laguna and Quezon Provinces Towards the Improvement of Control Strategies for Food Safety.  Mr. Macaraig emphasized the importance of good hygiene, proper handling of fresh produce, and proper management of poultry and other farm animals to avoid parasite contamination.
The participants' enthusiasm in watching the animated videos and listening to the lectures was very much felt despite their ages, 30s to 50s, others are already in their senior years, 60s to 85.

Expressing his gratitude for the new and valuable information they learned and practical knowledge they acquired  from the lectures which they can apply in their everyday life, Sitio Kati-Kati's Chieftain, Mr. Crispin Valencia said, "Maraming salamat po sa lahat ng bumisita sa amin at sa suporta na ibinibigay ninyo dito sa Sitio Kati-kati. Marami kaming bago at mahalagang impormasyong natutunan mula sa lectures na ibinahagi ng mga doktor [researchers]. May mga bagong kaalaman/sistema na tumatak sa amin na dapat naming matutunan.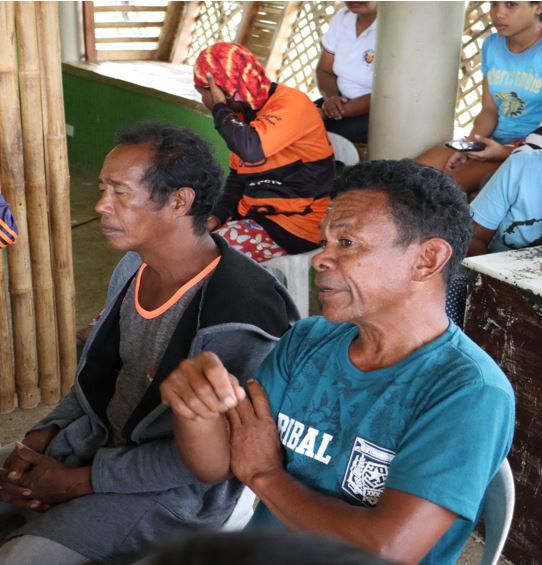 Pretests and posttests were conducted to measure their existing understanding of science concepts presented and how the videos as learning interventions helped enhance their mastery of the subject matter.
Fifteen (15) more DOST CEST beneficiaries are scheduled for the same BURDA video-lecture implementation, which are tailor-fitted to their respective information needs.
BURDA for CEST prioritizes cultural and gender sensitivity to promote the effective dissemination and utilization of research findings.
Written By: Regine C. Pustadan, NRCP