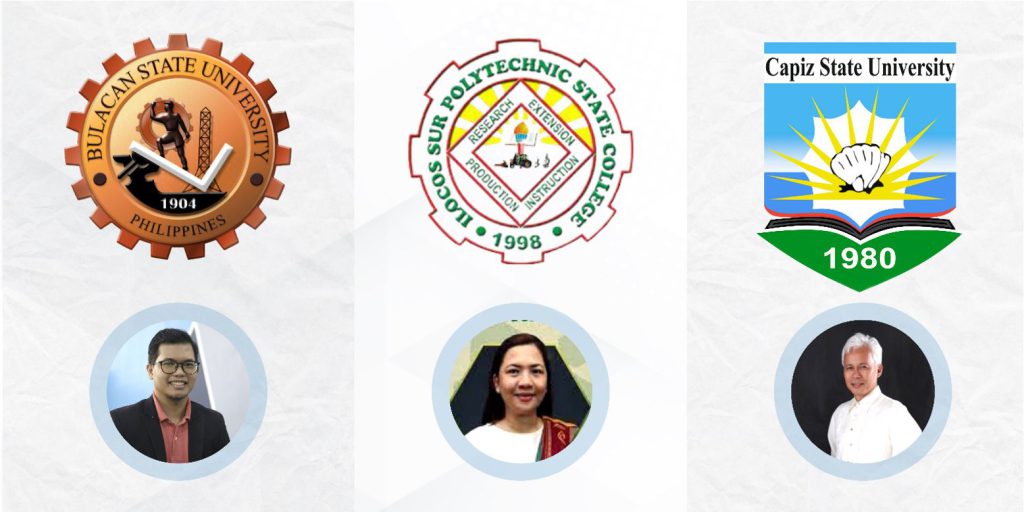 Three (3) higher education institutions (HEIs) assisted by the Research and Development Leadership (RDLead) program, implemented by the National Research Council of the Philippines (NRCP) are set to receive grants following the approval of their proposals submitted to DOST – Philippine Council for Industry, Energy, and Emerging Technology Research and Development (PCIEERD) under its Institutional Development Program (IDP). The IDP is a funding window from PCIEERD that provides up to P5M grant to HEIs, both public and private, to establish or upgrade their existing facilities or laboratories to be utilized in the conduct of research. The last call for proposal ran from June 15, 2022 – July 31, 2022.
The 3 new recipients of the IDP grant from PCIEERD are the following: Ilocos Sur Polytechnic State College (ISPSC), Bulacan State University (BulSU), and Capiz State University (CapSU), which will receive 2 grants – for Mambusao and Dayao Campus, and for Burias Campus. These three HEIs were assisted by their RD Leaders, Dr. Tonette P. Laude; Dr. Melchizedek I. Alipio, and Dr. Ricardo P. Babaran, respectively.
ISPSC and BulSU stand to receive P5M each, while CapSU will receive P10M for the 2 proposals approved covering 3 of its campuses. The proposals submitted by the 3 HEIs are part of their engagement outputs to be delivered with the help of their RD Leaders.
They now join the list of the other RDLead-supported HEIs that already secured funding from PCIEERD's IDP window namely: Partido State University (ParSU); Pamantasan ng Cabuyao (PnC); and Marikina Polytechnic College (MPC). This brings the total funding secured to P35M, which supports the establishment / upgrade of 7 laboratories in 6 HEIs.
Of these 6 HEIs, 3 are considered new to the DOST – PnC, MPC, and ISPSC. The IDP grants of these 3 HEIs are considered significant research breakthroughs within the DOST ecosystem. "New" HEIs are those that have not received research funding from the DOST through its funding councils.
Potential impacts to the institutions
With these laboratory establishment and upgrades to take place, it is expected that the recipients will be able to do more research activities as part of the commitment in receiving the grant. This will eventually lead to the establishment of their track record in research to help tap more external funding opportunities.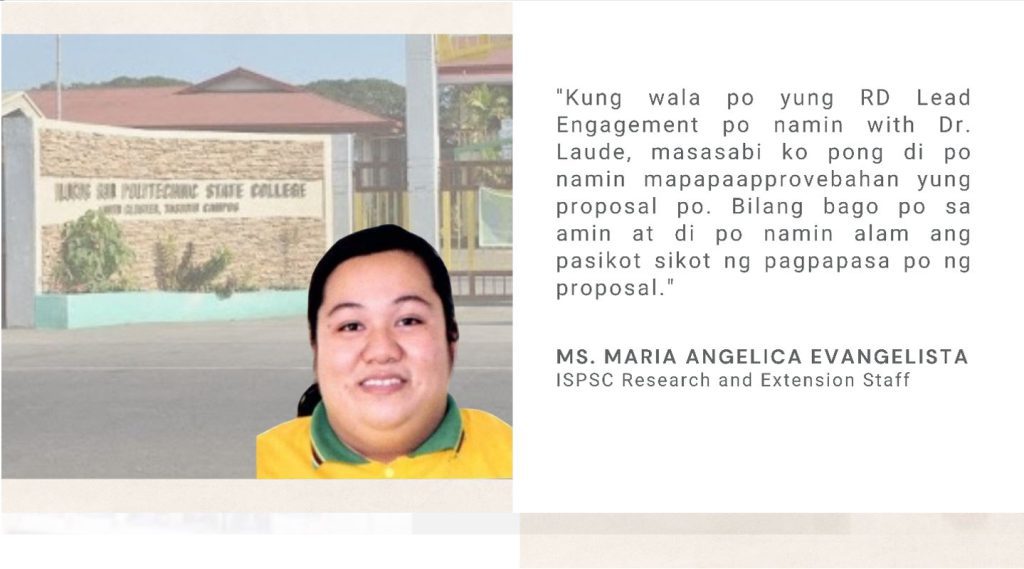 "Yung grant is of big help po in pursuing more research initiatives kasi may gagamitin na po ang mga faculty, researchers and students sa pagkakaconduct po ng mga research (i.e. Microbiological Researches). Dati po kasi wala po talaga silang kagamit-gamit and sa labas po sila nagpapatest ng Microbial Analysis and limited lang po dun yung service. Ngayon, with the help po ng mga equipment and materials acquired through the grant, may magagamit na po sila".
(The grant is a big help to us in pursuing more research initiatives since the faculty, researchers, and students will have the things they can use to conduct research. Before, they had no equipment to use so they go to other laboratories to do tests like microbial analysis, which offer limited services. Now, with the help of the equipment to be acquired through the [IDP] grant, they will have the things they can use.), Ms. Maria Angelica Evangelista, ISPSC Research and Extension Staff pointed out.
She also acknowledged how ISPSC's engagement with its RD Leader, Dr. Laude, contributed to the development, enhancement, and approval of the proposal they submitted to PCIEERD to start their efforts in securing more external funding support. In describing their RD Leader, she had this to say…
"…super approachable po ni Dr. Laude kaya di po ako nahihiyang iapproach po siya. And one thing na gusto ko sa kanya is kapag nakakapasa po kami sa kada step po ng evaluation, palagi niya kaming kinocongratulate which also boost(s) our confidence po and excited ka na po ulit for the next step ng evaluation."
(Dr. Laude is very approachable so I didn't find it difficult to work with her. One thing that I also like about her is that every time we pass each stage of evaluation, she always congratulates us, which boosts our confidence. This then makes us excited for the next step of the evaluation.)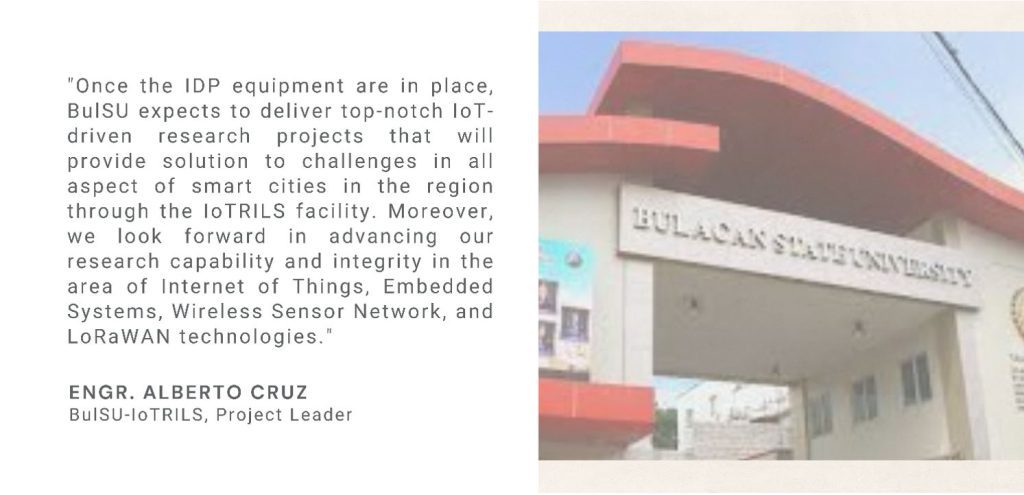 In discussing the good news about the IDP grant, Engr. Alberto Cruz of BulSU, Project Leader of the Establishment of Central Luzon Internet of Things Research Innovation Laboratory for Smart Cities (IoTRILS) points out that "once the IDP equipment are in place, BulSU expects to deliver top-notch IoT-driven research projects that will provide solution to challenges in all aspect of smart cities in the region through the IoTRILS facility. Moreover, we look forward in advancing our research capability and integrity in the area of Internet of Things, Embedded Systems, Wireless Sensor Network, and LoRaWAN technologies. Finally, through the collaboration of IoTRILS and BulSU's Cybernetics Regional Development Centers, we envision more sustainable and nature-positive research that aim to make an impact in addressing the UN-SDGs and the country's harmonized national research and development agenda."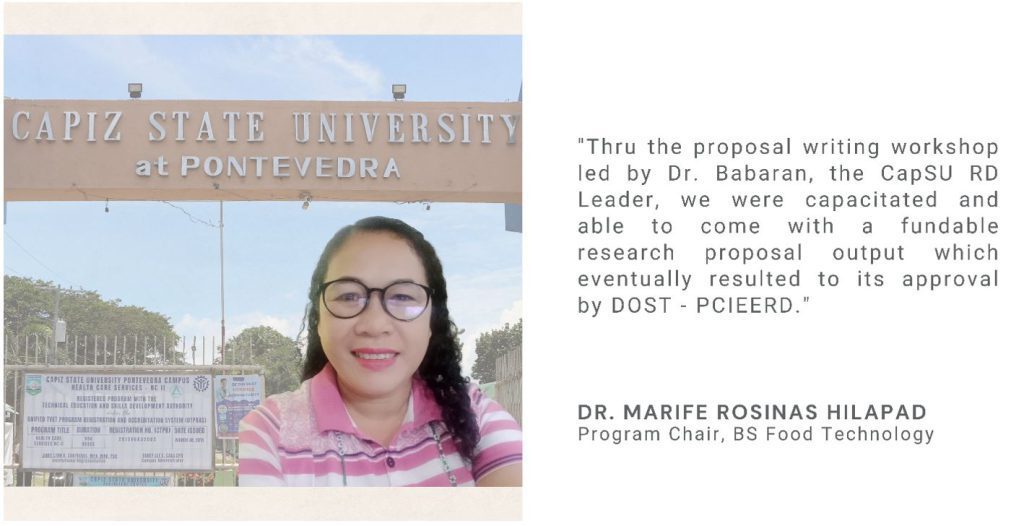 Dr. Marife R. Hilapad, Chair of CapSU BS Food Technology Program considers their mentoring with their RD Leader, Dr. Babaran as a contributing factor to the success of their proposals. With their enhanced capability to write fundable proposals through the trainings and consultations done by their RD Leader, CapSU finally succeeded in seizing funding opportunities like the PCIEERD IDP grant.
Lastly, in discussing how the grant will help CapSU, its Vice President for Research, Development and Extension, Dr. Efren Linan has the following to say, "Ang tinutuyo sang CAPSU na makabulig sa Seafood Industry sang Capiz kag rehiyon paagi sa research o siyensya, matuman na! Ang DOST IDP grant makabulig establisar sang maayo na teknolohiya kag maka engganyo sang amon mga siyentista na maghimo sang maayo kag reliable na pagtukib. Isa ini sa amon kadalag-an sa amon tinutuyo sa pagpabakod sang "Innovation Ecosystem" sa unibersida."
(The mission of CAPSU to help the seafood industry of Capiz and the region through research and innovation will soon be realized. The DOST IDP grant will truly help us generate good technologies and will encourage our researchers to do research, which are relevant and reliable. Our aim of strengthening the university's "Innovation Ecosystem" is starting to be realized.)
The RDLead program continues to share opportunities to the engaged RD Leaders for them to share and discuss with their host institutions. The approved IDP grants from DOST-PCIEERD are among the several opportunities secured by RDLead-assisted HEIs, RDIs, and NGAs, which also include funding for research and development projects and programs. With its RDLead program, the National Research Council of the Philippines is able to connect institutions with funding windows which could not have been possible without the RD leaders' guidance and mentorship.