21st NRCP MINDANAO REGIONAL CLUSTER CONVENTION AND STAKEHOLDERS' ENGAGEMENT: FORGING COLLABORATION WITH LGUs, HEIs, AND THE THIRD SECTOR
The National Research Council of the Philippines (NRCP) is set to hold the 21st Mindanao Regional Cluster Convention and Stakeholders' Engagement on November 30 to December 1, 2023, in partnership with Caraga State University and DOST CARAGA. The event's theme is "Towards a Positive VUCAD2 Future: Science Technology and Innovation's Role in Sustainable Development in the Mindanao Region."
The two-day event aims to strengthen the network between local government units (LGUs), higher education institutions (HEIs), and the third sector. On the first day, the 20th NRCP Regional Cluster Convention will take place, followed by the Stakeholders' Engagement on the second day.
The NRCP advocates for supporting the Philippine legislature, Congress and Senate, the local government units, and various Departments under the Executive Branch in the conduct and integration of demand-driven evidence-based research to legislation and policies. The goal is to make policy research an integral part of the enhancement of legislation and policy-making towards creating development and effective governance.
The event proposes the interface and the advancement of the role of the NRCP researchers, the HEIs, and the SUCs as co-creators and participants in legislation and policymaking. The NRCP envisions being a game-changer through the innovative utilization of research by expanding and deepening its commitment as a policy advisory by providing an avenue to discuss opportunities for engagement in Policy Research, Monitoring and Evaluation (M&E), and Resource Generation.
The event's objectives are to provide opportunities for partnerships with LGUs, HEIs, and the Third Sector on policy research agenda setting, funding, resource generation, and capacity building. It also aims to identify areas towards governance and framework development through research and measurement and evaluation. Lastly, it aims to foster linkage and strong coordination among stakeholders in the local government units and third sectors as research beneficiaries and the HEIs, SUCs, and the NRCP as research providers.
The NRCP invites all interested parties to participate in this event and contribute to the sustainable development of the Mindanao region.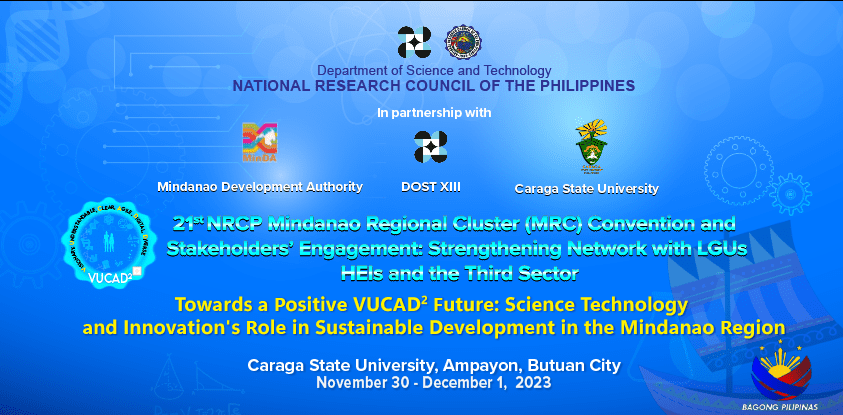 For media inquiries, please contact: 8837-61-42 Local 101
EXECUTIVE DIRECTOR III, DOST-NRCP
About NRCP:
The National Research Council of the Philippines (NRCP) is a premier agency in the Philippines dedicated to fostering research and development across various disciplines. NRCP facilitates collaboration between researchers, policymakers, and stakeholders to address critical challenges and drive sustainable regional and national development.
By 2033, the National Research Council of the Philippines envisions being the government entity that creates knowledge, formulates policy, and is the prime advisory and consultative body towards sustainable and people-centered development for the nation and the world.– NRCP Vision (Glenn Ford B. Tolentino / gftolentino.nrcp.09112023@gmail.com)