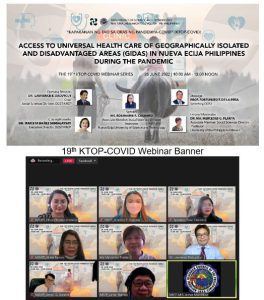 KTOP-COVID Panelists (from left to right: Ms. Olive Chester Antonio (NEUST), Ms. Jennifer Casabar (NRCP), Ms. Rosemarie Casimiro (Speaker), Ms. Vilma Ramos (NEUST), Dr. Ma. Mercedes Planta (Moderator), Dr. Lawrence Dacuycuy (NRCP Social Sciences Division Chair), Dr. Arneil Gabriel (NEUST), and Ms. Lanie Manalo (NRCP)
The National Research Council of the Philippines featured its 19th Kapakanan ng Tao sa Oras ng Pandemya– COVID (KTOP-COVID) Online Webinar last June 28, 2022. Ms. Rosemarie Casimiro from the Nueva Ecija Science and Technology presented her study on the access to health services of IPs/ICCs living in geographically isolated and disadvantaged areas (GIDAs) in the province of Nueva Ecija during the pandemic. This project is one of the funded projects of KTOP-COVID Program that supports quick socio-economic and governance studies which aimed to provide evidence for policy making and program development as the country continues to adapt to the new normal.
On Ms. Casimiro's talk, she emphasizes the importance of Universal Health Care (UHC) Program of the Philippines. It enhances health care programs by removing inequities in health outcomes and ensures access to cost-effective and quality health care services for all Filipinos. However, Ms. Casimiro stated that the success of the program depends on the inclusivity and its capacity to serve all Filipinos regardless of their cultural background. According to her study, healthcare facilities and personnel have been inaccessible and/or rarely accessible to the IPs/ICCs in GIDAs even before the pandemic. This was due to the geographic distance and a lack of government backing for healthcare services. During the pandemic, residents who exhibit symptoms are taken to the isolation centers. The respondents indicated that they avoided seeking medical help because they were afraid of being mistaken for virus carriers and concerned about catching the virus through healthcare facilities. The number of healthcare providers were also decreased. One interviewee said "Sabi nga namin po, mamatay na yung pasyente wala pang doctor", implying that it has become common for a patient from the community to die without seeing a doctor. To cope up with the health crisis, Indigenous peoples from Palayan, Caranglan, and Gabaldon, have been relied on traditional medicines that have yet to be clinically proven to be beneficial in treating a variety of illnesses, including COVID-19. Nonetheless, Ms. Casimiro acknowledged the Indigenous peoples' community resilience during the COVID-19 outbreak, which included dissemination of information on safety measures via mic-announcement in the locality coordinated by local government representatives and Indigenous leaders. They followed the ordinance regarding the use of face masks and kept a social distance with a 14-day mandatory quarantine period. Strong community support, adherence to traditional norms and beliefs, and safety precautions may have led IPs to decrease the prevalence of COVID-19 during the pandemic.
With these evidence-based findings, enhancing the quality of healthcare services and inclusion of Indigenous people's representative in the planning, monitoring, implementation, and evaluation of public policies in promoting sustainability, equity, and IPs'/ICCs' inclusion in development plans were recommended to achieve the Sustainable Development Goal 3: Good Health and Well-Being in the country.